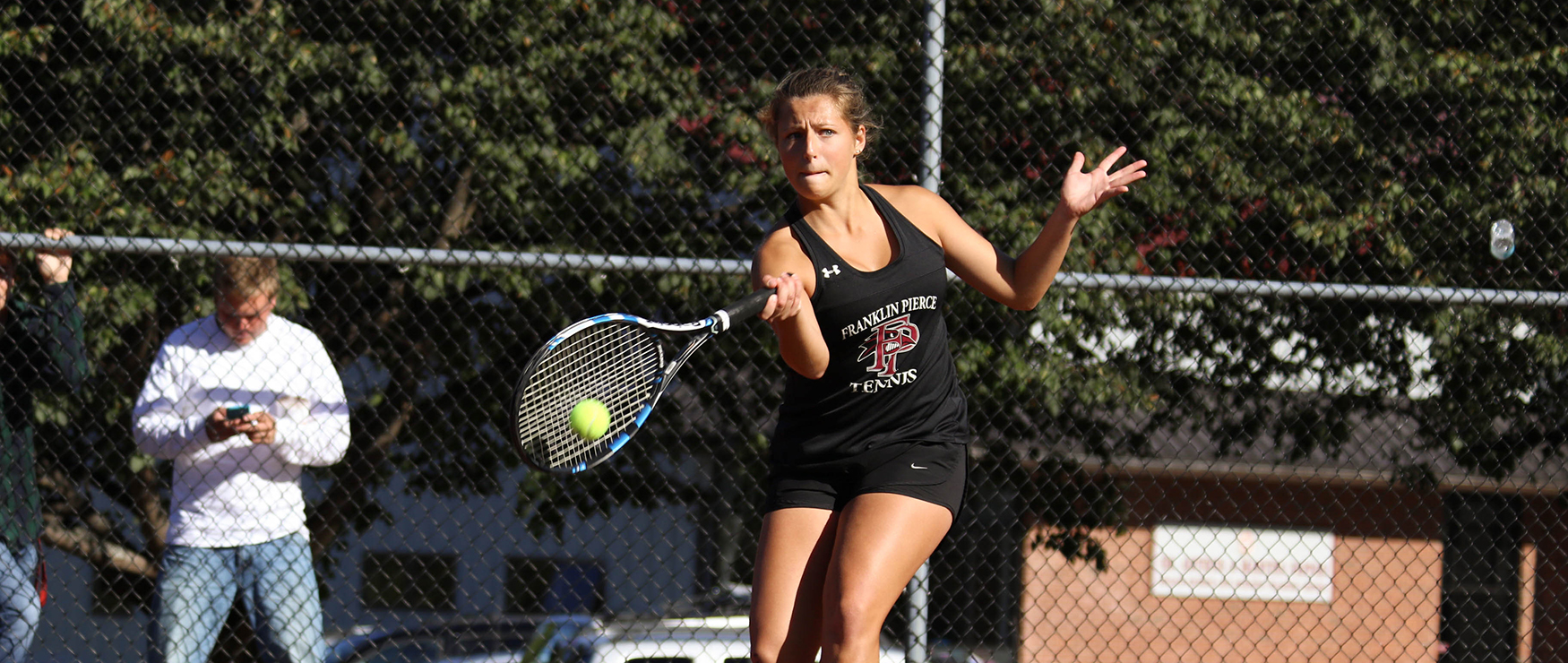 WEST HAVEN, Conn. (October 8, 2017) – The Franklin Pierce University women's tennis team was defeated, 7-2, in Northeast-10 Conference play on the road at New Haven on Sunday afternoon.
With the loss, Franklin Pierce falls to 1-11 (1-8 NE10), while New Haven improves to 5-7 (4-6 NE10).
Only able to field five healthy bodies, the Ravens opened the day in a 2-0 hole, as they had to default at both third doubles and sixth singles.
Franklin Pierce's two points on the day both came in singles play. At third singles, sophomore Sarah Rich (Windham, Maine) scratched out an 8-6 win over New Haven junior Caitlyn Burridge. Meanwhile, at fourth singles, it was an 8-5 win for sophomore Kelly O'Donnell (Maywood, N.J.) over junior Ashley Varrone.
Rich and O'Donnell nearly pulled out another point as they teamed at second doubles, but were ultimately edged by sophomore Angela Mercurio and junior Lauryn Burridge, 9-7.
Stephanie Gonzalez was a winner at both first doubles and first singles to lead the way for New Haven. At first doubles, the freshman teamed with fellow freshman Lilia Rodriguez for an 8-2 win. Later, Gonzalez rolled to a 6-1, 6-1 win at first singles.
The Ravens return to the court on Wednesday, Oct. 11, when they return home to host Le Moyne in an NE10 contest at 2:30 p.m. in Rindge.
For more information on Franklin Pierce Athletics, please visit the official website of Franklin Pierce Athletics (http://athletics.franklinpierce.edu). Also be sure to follow the Ravens through the Department of Athletics' official Facebook page (http://www.facebook.com/FranklinPierceRavens), its YouTube channel (http://www.youtube.com/franklinpiercesports) and its Twitter feed (http://twitter.com/FPUathletics). Fans wishing to purchase Franklin Pierce tennis apparel can do so at the Department of Athletics' online store (http://athletics.franklinpierce.edu/store).