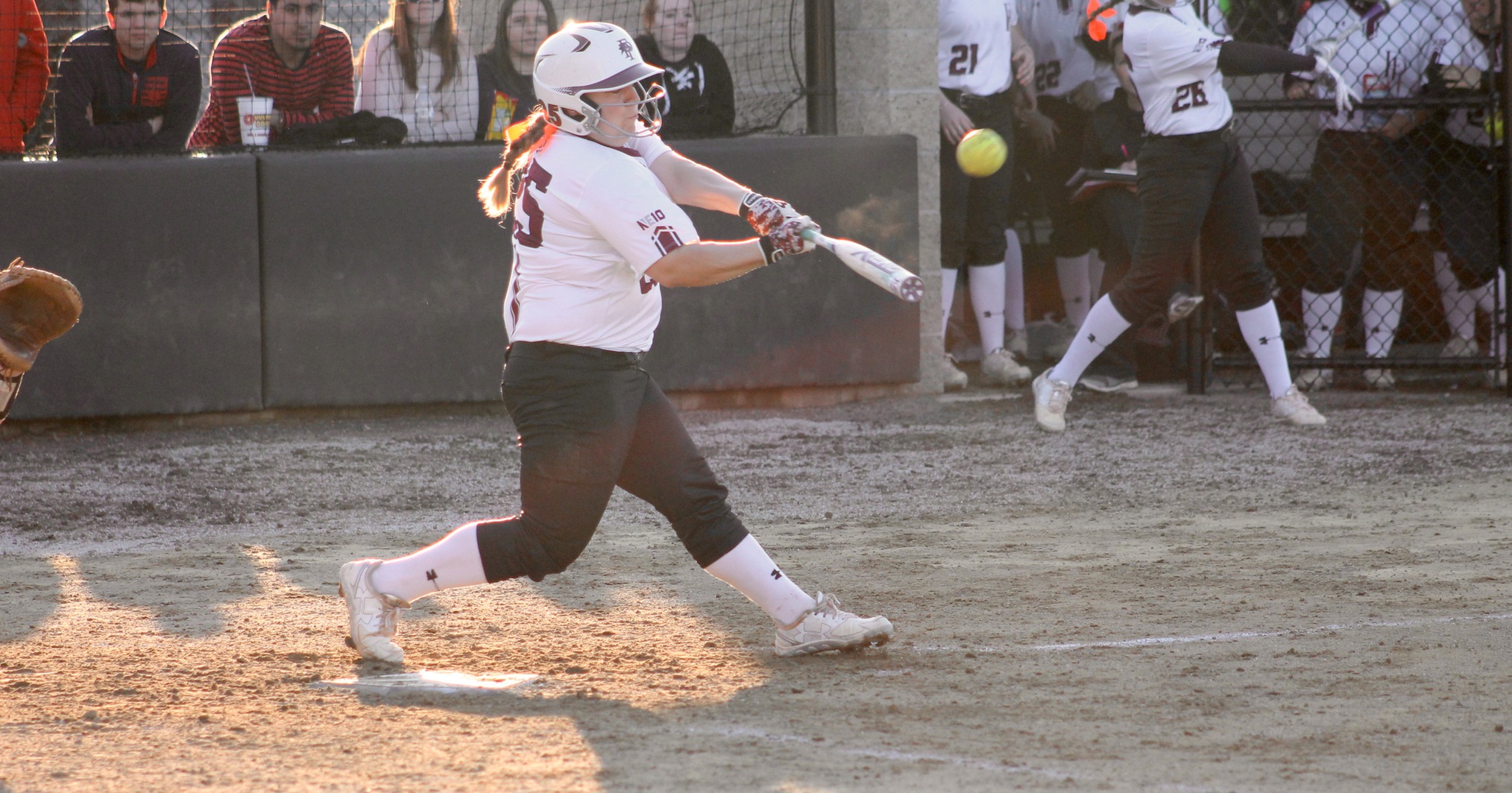 MANCHESTER N.H. (April 24, 2017) – The Franklin Pierce University softball team was shutout 9-0 by Northeast-10 Conference opponent Southern New Hampshire University Monday afternoon on the SNHU Softball Field. With the win, the Penmen improve to 21-17, 7-11 NE10 on the year and the loss was the 28 of the season for the Crimson and Grey.
Penmen starting pitcher Gabriella Vachon hurled a complete game shutout while striking out five Ravens and scattering three hits. Catcher Ashley Conway (Salem, N.H.), shortstop Ashley Deyo (Dover, N.H.) and third basemen Mikaela Ballmer (Birdsboro, Pa.) mustered only singles against the dominant Vachon.
Southern New Hampshire was led by two, 2-for-3 performances by their seventh and eighth hitter's, first basemen Erin Morrissey and Vachon who hit for herself. They each drove home two runs as Morrissey was plated twice and Vachon recorded the only extra base hit in the contest. Designated player Jordan Wade was 1-for-3 with two RBI as well.
The hosts tallied five runs in the home half of the first as Wade singled up the middle to bring home catcher Erin Garczynski and centerfielder Katie Horluchl who reached via a bunt single and a free pass to move ahead 5-0. SNHU would add on four more to their lead in the bottom of the second as Vachon helped out her own cause with a two-run scoring two bagger to center.
Ballmer broke the hit column for the Crimson and Grey in the top of the third as she swung at the first pitch and stroked a single through the left side between the third basemen and shortstop. Vachon would retire the next three batters by striking out two swinging and inducing a groundout to short.
Franklin Pierce would put the first two runners on in the top of the fourth, but couldn't bring a run home as the Penmen retired them in order in the top half of the fifth to win by the run rule.
The Ravens will travel to Saint Michael's College on Wednesday for a twinbill with first pitch set for 3:00 and 5:00 p.m.
For more information on Franklin Pierce Athletics, please visit the official website of Franklin Pierce Athletics (http://athletics.franklinpierce.edu). Also be sure to follow the Ravens through the Department of Athletics' official Facebook page (http://www.facebook.com/FranklinPierceRavens), its YouTube channel (http://www.youtube.com/franklinpiercesports) and its Twitter feed (http://twitter.com/FPUathletics). Fans wishing to purchase Franklin Pierce softball apparel can do so at the Department of Athletics' online store (http://athletics.franklinpierce.edu/store).